Web site Designing Maintenance Domain Registration Windows Hosting Search
Engine Optimisation in Vadodara SEO in Baroda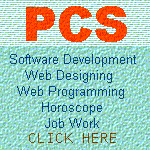 We are Baroda / Vadodara base Indian IT Company, right now doing following all kind of work for Personal use, Private company, Corporate sector, Multi-national company.
Web Site Designing : Till now we serve our services to Corporate sector, Privet companies, Photographer, Web Site Designers, Manufacturers, Traders, Software Developers, Service Provider, DTP Workers, Doctors, Pharmaceutical Companies, Hospitals, Schools, Astrologer,Trust etc, National wide.

[Fine & High Quality Graphic Site with Macro Media, Flesh and other tools, visit our Site http://www.VarRaja.com Matrimonial site, visit site for Free Registration, Matrimonial Groom, Matrimonial Bride ]

Web site maintenance service.

Web site programming [Do your business 24 hours 365 days, Create Database integrated programs, Buy/Sale all over the world, Use Intranet Concept for integration with your local server data to node data.

SEO service in Vadodara/Baroda, Search Engine Optimization Service for improve your search in Search engine.
E-Book [Electronic Book] Development, [Send your data with e-book with password key, Contain Multicolor Text, Graphic, Sound. Institute of Books of America decide to convert all Paper Books into E-Book for saving expense, Office Space and Tree!]
Please send us your inquiry about all above work, its our word to you that give you "Best Quality Product and Services that you Need
WebZ Studio

Web Design services of WebZ Studio, Gujarat, India.

Ff-17, Aditya Complex, Vasna Road

Vadodara

390015

India
Powered by WEBZ Studio Copyright© 2018-2019 varraja.com sitemap
...